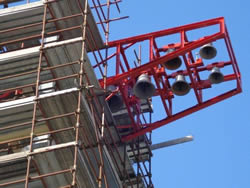 Our support for bells in working order.
The service and maintenance is certainly a strength of our company, composed of teams of maintenance technicians, equipped with mobile workshop, ensured the widespread enforcement of any remedial action.
Our maintenance service bells and clocks is also active in holiday periods (Christmas, Easter, etc..) In order to ensure continuity of operation in all facilities and for whom the bells more than 65000 by the electrified the country.

The service sector also uses the service "EXPRESS SERVICE" which aims to intervene where immediate action is required at special events (patron saint's day, anniversaries, important moments parish) is when the sound of the bells is essential.
Furthermore, it is always available when an operator is able to give technical advice in order to eliminate the small disruptions. Our maintenance staff have a mobile workshop and spare parts of all "original" in order to provide a quality service and always resolving each type of plant.

The technicians covered by any form of contribution and accident prevention release the customer from any form of legal liability in case you encounter any injuries or accidents during operations in the bell tower and parish complex in general. This aspect, often overlooked, can be a rather ephemeral savings that can result in huge psychological and financial expense.